President Obama was asked several questions regarding his position on marriage equality today at a midday press conference, Igor Volsky at Think Progress reports.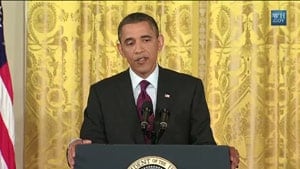 In the first question, he was asked if he believes civil marriage is a constitutional right.
Dodging, the question, Obama discussed his administration's position declaring DOMA unconstitutional and praised New York's marriage equality decision, saying, in part:
"What I've seen happen over the last several years and what happened in New York last week, I think was a good thing. Because what you saw was the people of New York having a debate, talking through these issues. It was contentious, it was emotional, but ultimately they made a decision to recognize civil marriages and I think that's exactly how things should work. I think it's important for us to work through these issues because each state is going to be different and each community is going to be different."
He was later asked a follow-up question by the Wall Street Journal's Laura Meckler, asking if he personally supports same-sex marriage. Said Obama: "I'm not going to make news on that today. Good try though….I'll keep on giving you the same answer until I get a different one."
Watch both clips, AFTER THE JUMP…