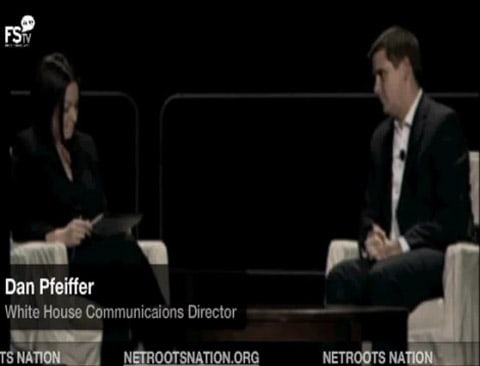 At Netroots Nation today, White House Communications Director Dan Pfeiffer was asked about the 1996 questionnaire published by the Windy City Times and signed by Barack Obama when he was running for State Senate in Illinois.
The questionnaire (seen below) features a range of statements, one of them being "I favor legalizing same-sex marriages, and would fight efforts to prohibit such marriages."
Said Pfeiffer at the Netroots panel: "If you actually go back and look, that questionnaire was actually filled out by someone else, not the President."
When pressed on if the questionnaire is faked, Pfeiffer dodges the question and goes on to explain that Obama's position is that he is "evolving" on the issue, adding:
"I can't tell you today when that evolution will continue, but that is where he is, and I will say, people in this room have pushed him on this, and he believes you should continue to push him on it."
Watch, AFTER THE JUMP…