A Pentagon spokesman today confirmed that an Airman was discharged under "Don't Ask, Don't Tell" in late April. The Airman the first and only service member to be dismissed under "Don't Ask, Don't Tell" since Obama signed repeal legislation, MetroWeekly's Chris Geidner reports: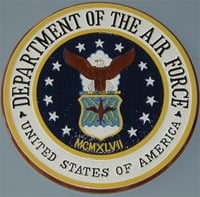 Pentagon spokeswoman Eileen Lainez wrote today to Metro Weekly, ''The only separation approved following the Oct. 21, 2010 policy change is an Air Force separation, approved Apr. 29, 2011.''
Air Force Major Joel Harper, an Air Force spokesman, clarified the specifics of the discharge to Metro Weekly, writing, ''On April 29th, 2011, the Secretary of the Air Force approved the discharge of an Airman under the provisions of 10 USC 654, after coordination with the DoD General Counsel [Jeh Johnson] and the Under Secretary of Defense for Personnel and Readiness [Stanley].''
Harper continued, ''Each of these officials evaluated the case carefully, and concluded that separation was appropriate. The Airman in the case asked to be separated expeditiously.''
Further details about the circumstances regarding the discharge were not available.
More at MetroWeekly.
Just days ago, Obama released an LGBT Pride Month proclamation highlighting repeal of the discriminatory measure:
Since taking office, my Administration has made significant progress towards achieving equality for LGBT Americans. Last December, I was proud to sign the repeal of the discriminatory "Don't Ask, Don't Tell" policy. With this repeal, gay and lesbian Americans will be able to serve openly in our Armed Forces for the first time in our Nation's history. Our national security will be strengthened and the heroic contributions these Americans make to our military, and have made throughout our history, will be fully recognized.
Servicemembers Legal Defense Network executive director Aubrey Sarvis released a statement to MW regarding the discharge: 
''This discharge underscores the need for the President, the Chairman of the Joint Chiefs and the Secretary of Defense to certify 'Don't Ask, Don't Tell' repeal and put this ugly chapter in American history behind us. It also highlights the undeniable and unfortunate fact that service members remain under investigation and at risk of discharge."