Politico reports that Texas Governor Rick Perry is prepared to defend himself against seven-year-old rumors that he is gay if and when he plans to run for President: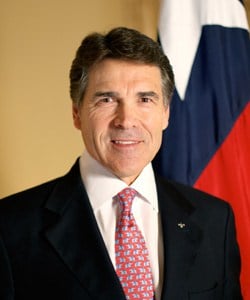 They spread for two months, were posted on various websites and were vetted by many national outlets, all of which turned up nothing. But Team Perry, asked about how it's prepared to handle them when they emerge if he runs, said it remains "false and misleading."
"As you may know, Rick and Anita Perry first met in grade school, went on their first date together in 1966, have been lovingly married since 1982 and are parents to two grown children," said top Perry strategist Dave Carney. "This kind of nameless, faceless smear campaign is run against the Perry family in seemingly every campaign, with no basis, truth or success."
"Texas politics is a full contact support, live hand grenades and all; unfortunately there are always going to be some people who feel the need to spread false and misleading rumors to advance their own political agenda," he said.
And you know, they hadn't really been at the top of our mind until Politico brought them up.
(via the dallas voice)