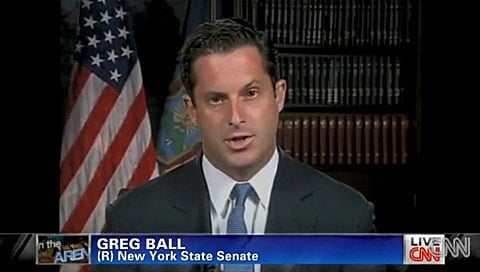 New York GOP Senator Greg Ball, seen as one of the swing votes on marriage equality, discusses the religious exemptions he's seeking in the marriage equality bill on CNN.
Ball won't says that he'll support a bill, even if the religious protections he seeks are in it.
CNN: "So you're on the fence…if you got all of the protections that you say you need there, then in theory you support gay marriage in New York.
BALL: What I would say, and I look at it from a different angle – without those religious protections, I would be an absolute no…Without the religious protections, from my perspective, I don't see how the governor gets it done.
Watch, AFTER THE JUMP…

As you may recall, Ball solicited advice about marriage equality from folks on Twitter over the weekend.
New York Observer reporter Azi Paybarah wrote on Twitter yesterday: "GOP State Senator @ball4ny told me responses he got to marriage survey were about "a thousand to one" but were coming from outside his dstrt"
Meanwhile, Politico reported:
On Twitter, the feedback is overwhelmingly in favor of a yes vote on the bill, which has yet to be formally introduced by the state senate's GOP leadership. On Ball's Facebook page, where users are generally less anonymous and more tend to be residents of his Hudson Valley district, response is more mixed, with Ball estimating a 50-50 split.
And in Ball's district office, he said, calls and letters are running about 60-40 in favor of a no vote.