New Yorkers United for Marriage needs your body in Albany.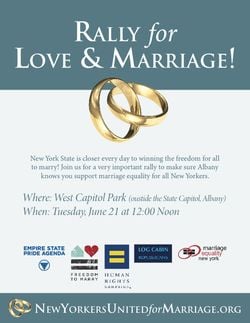 As you can see from the clips I posted earlier today, anti-gay marriage advocates are trucking people in to oppose same-sex marriage and the pressure is on lawmakers at the State House.
New Yorkers United for Marriage is planning a rally for marriage equality tomorrow. They write:
There are a number of issues still to be resolved in Albany, which means the Legislature will be staying beyond today's June 20th deadline. 
We are heartened that there continues to be respectful and productive dialogue on the issue of marriage equality and believe we are getting close to a vote on the Governor's marriage bill. 
New Yorkers United for Marriage asks you to join us at a Rally for Love and Marriage tomorrow –Tuesday June 21 — at noon outside the Capitol in Albany. Together, we will make sure that all New Yorkers will soon be able to marry the person they love.
A possible vote on marriage equality is very much still in play.
Call your Senators today (info here), and if you can get to Albany tomorrow, I'm sure that supporters there would appreciate your help.
UPDATE: There are now free buses going to Albany from Manhattan. RSVP to contacts listed HERE.
We have two buses leaving at 9am tomorrow.
Leave from 1199 HQ
310 W 43rd St, bt 8th and 9th. (Different than phone bank location!)
Returning from Albany at 3pm
PLEASE HAVE PPL RSVP so we can fit everyone. RSVP to [email protected] and 202 628-4160  and Stephen Anderson at [email protected] 202 716 1650.