Harold Camping, the 89-year-old Family Radio pastor who predicted that 'The Rapture' was coming on May 21 and then revised his date to October 21, suffered a stroke late last week, the Oakland Tribune reported: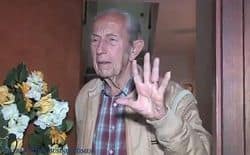 "He had a stroke, it was on his right side," said the neighbor, who declined to give her name but said she and her husband helped and comforted Camping's wife, Shirley, as the drama unfolded Thursday night.
Her husband spoke again with Shirley Camping on Friday. "His speech appears to be a little bit slurred but otherwise he's OK," the neighbor said. "(Shirley) said he was doing good "… and the only thing that's affected is his speech."