12-year-old Sam Maden's drive to persuade the Boston Red Sox to create an "It Gets Better" video worked. The Major League Baseball team announced today that they will join the San Francisco Giants and the Chicago Cubs and contribute videos to the massively successful campaign.
 A spokesperson announced today: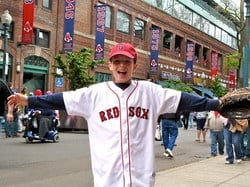 "We are proud of dedicated Red Sox fans like 12-year-old Sam Maden who have taken the courageous step of publicly standing up against bullying of LGBT youth," said Susan Goodenow, Senior Vice President/Public Affairs and Marketing for the Red Sox, in a statement. "The Red Sox have frequently done PSA videos, or public service announcement videos, on important social issues. We are currently producing an "It Gets Better" video to support the It Gets Better campaign to stop bullying of LGBT youth and teen suicides. We hope that when it is released it will both reflect our continued commitment to be active participants in the community and help advance the efforts of Sam and others to stop bullying. Our team stands for respect and inclusion – there is no place for discrimination or acts of hatred in Red Sox Nation."
Madsen's e-petition has attracted almost 10,000 signatures so far and led to petitions for the Seattle Mariners and the New York Yankees to follow suit.