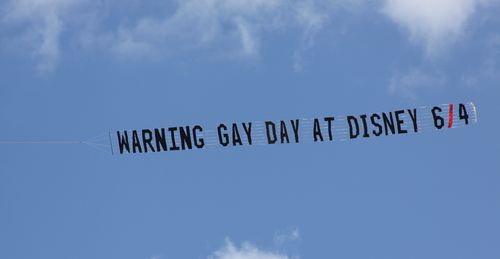 A conservative group in Florida has made it their mission to "warn" the people of Orlando about today's annual Gay Day at Disney World. The hateful Florida Family Association (FFA) says that gays and lesbians lead "immoral lifestyles" and has spent $7,000 to fly banners that read "Warning Gay Day at Disney 6/4" over Orlando for two full days.
From the FFA site:
"Florida Family Association wants to warn these families about this offensive event before they arrive at the Magic Kingdom on Saturday.  This airplane banner is our best effort to accomplish that goal…Florida Family Association has asked Disney officials to require Gay Day to be held after hours, like Grad Night or Night of Joy, to avoid offending unsuspecting families who traveled thousands of miles expecting a normal day."
The bigoted group currently has looped video of the flyover playing on the home page of its site. They are also urging a ridiculous boycott of the Doubletree by Hilton, the official hotel for Gay Day because The FFA believes they are "sanctioning the celebration of the homosexual, lesbian and transgender lifestyles."
Earlier this year, the FFA called for a boycott of MTV's Degrassi: The Next Generation for featuring a transgender character on the show.