Rudy Giuliani reportedly offered to marry Howard Koeppel and Mark Hsiao, the gay couple who opened their home to the former NYC mayor during his divorce, if same-sex marriage was ever legalized in New York.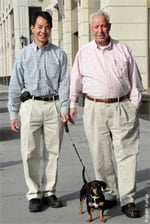 Now that it has, Giuliani won't return their calls, the NY Post reports:
"I asked if he would marry us," recalled Howard Koeppel, the unlikely provider of an emergency Midtown crash pad to Giuliani for six months when his marriage to Donna Hanover was crumbling and Gracie Mansion was a war zone.
"He said, 'Howard, I don't ever do anything that's not legal. If it becomes legal in New York, you'll be one of the first ones I would marry.' "
Ten years later, Koeppel is distressed that his former house guest hasn't returned the many calls he began making before the legislation was passed last week. "It seems like a lot of people he was close to become persona non grata," Koeppel observed.
Koeppel and Hsiao were married in 2009 in Connecticut but want to repeat the ceremony in their home state.
At the 2009 ceremony Giuliani was a last minute no-show, but the couple had defended his anti-equality position a few weeks beforehand: "He isn't an advocate for gay marriage because of his religious beliefs. He is a traditional Catholic. Those teachings say marriage should be between a man and a woman."
Said Giuliani on Monday about the passage of marriage equality: "I'm glad that people who felt discriminated against have that, sort of, burden of discrimination lifted."