The FBI invited Westboro Baptist Church to two of its facilities to help train agents and police officers, NPR reports: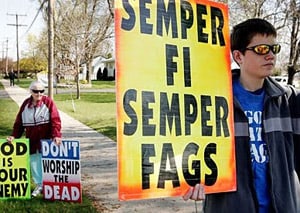 …the FBI recently invited leaders of the fundamentalist church to the Quantico Marine base in Virginia to talk to FBI agents as part of the bureau's counterterrorism training program. But after four sessions this spring, the FBI canceled the arrangement amid criticism from inside the bureau, while church leaders claimed that they had been misled.
Apparently officers needed training on the kind of hate  theWBC inspires:
He said the program was designed to teach agents "how to stay measured when they are speaking with a witness or a suspect with whom they have a strong, visceral disagreement."
[Timothy] Phelps conceded that strong, visceral disagreement is one of the emotions Westboro inspires. And that's what he found in the classrooms he visited. Officials say there were about 50 local law enforcement officials and agents in each session, and they say Westboro wasn't paid for its participation. Phelps confirmed that no money exchanged hands.
Phelps says he had no idea he was part of a "domestic terrorism curriculum":
Law enforcement officials who attended the session said it was focused on domestic terrorism. They were told that the FBI invited Westboro members to the class so police officers and agents could see extremists up close and understand what makes them tick.
Listen to the full report at NPR.