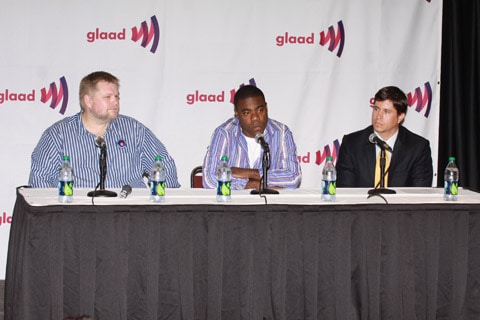 Tracy Morgan appeared in Nashville today with GLAAD Senior Director of Programs Herndon Graddick and Kevin Rogers, the audience member who originally wrote about Morgan's offensive stand-up routine on Facebook.
Said Morgan, after remarks from Rogers:
"I apologize to Kevin and people that were at the show. I want to apologize to my friends, and my family and my fans and everyone in every community who were offended with this. I didn't know. I didn't mean it. That's how I feel about it. I don't have a hateful bone in my body. I don't believe that anyone should be bullied or just made to feel bad about who they are. I totally feel that, in my heart, I don't care who you love, same-sex or not, as long as you have the ability to love…"
Said Graddick, in a statement from GLAAD: "Tracy's remarks today have the power to reach millions with a message that gay and transgender youth should be met with support from families –not rejection or violence. In a state like Tennessee where anti-gay laws continue to be passed, it's now more important than ever for allies like Tracy to speak out and let Tennesseans know that homophobia has no place on or off the stage."
Watch a clip of the press conference, AFTER THE JUMP…