Michele Bachmann spent House money on her Tea Party rally.

Bam Margera takes offense at Ryan Dunn drunk driving tweet from Roger Ebert.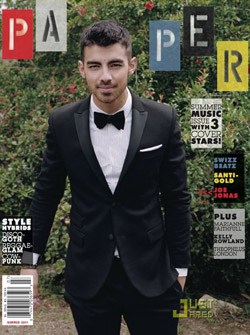 Joe Jonas, your summer Paper boy.

Alcide beefs up the pages of GQ.

Victory Fund President Chuck Wolfe on a gay President: "I think we may see a candidate in 5 cycles, that's 20 years. […] You have too build the bench here. So we're spending a lot of time on the trainings, and getting people elected as mayors. We have a few state-wide elected officials today. Often somebody has a better chance if they're a governor or U.S. senator, having been elected statewide to have an existing base to run for president of the United States."

Get your gay card. I only scored a 40.

Boston Globe reports on the exit of GLAAD President Jarrett Barrios.

Matthew Rettenmund of Boy Culture does a big wrap-up of this year's Broadway Bares, which raised a record-breaking $1.1 million for Broadway Cares.

Interview: Arjan chats with Toronto pop musician Diamond Rings.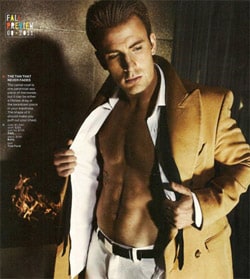 More Chris Evans in GQ.

Gay adult film director Chi Chi LaRue takes Chris Crocker under his wing, will make full-length feature this summer.

50 Cent to write book for teens on bullying.

Details of John Galliano's drunken, anti-Semitic tirade are emerging.

Philadelphia Gay and Lesbian Latino AIDS Education Initiative (GALaEI) announces 'Pleasure Rush' HIV-prevention campaign: "The campaign kicked off with it's fist 'What If' encounter video series that looks at a Craiglist-type hookup and the decision to use or not to use a condom."

Michigan Court of Appeals says "gay panic" is not self defense. 

Rihanna, Madonna, Mariah, Gaga, Britney, Christina at their worst.

Art and design site 'The Fox is Black' launches series on LGBT creatives.

New cigarette warning labels released.

New video released of Mars moon Phobos.

Saugatuck school board rejects LGBT sex ed video: "A video about lesbian, gay, bisexual and transgender students coming out was put back on the shelf by the Saugatuck school board by a 5-2 vote Monday night, June 20…'It's about sexuality. We got sold on it as something more about bullying,' said Treasurer Jason Myers, who voted against adopting the video."

Sorry, more bad news from Fukushima.

Nearly half of college-educated gay Americans are in the closet at work.

Study: The context of your coming out is very important in terms of your happiness. "By teasing out the effects of different contexts, this study shows that 'environment plays a huge role in determining when coming out actually makes you happier,' says Nicole Legate, a doctoral student at the University of Rochester, who led the study with Ryan and Netta Weinstein from the University of Essex in England. Among accepting groups, individuals experience significant psychological payback from being open about their sexual identity. But among hostile groups, the costs and stigma of identifying as lesbian, gay, or bisexual cancel out these benefits. In judgmental contexts, 'those who come out may actually feel no better than those who conceal,' says Legate.