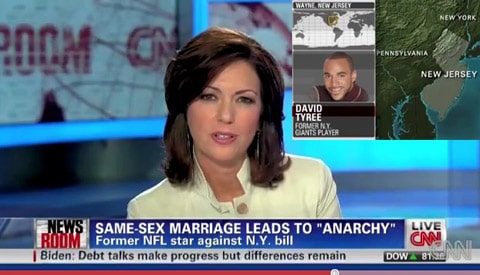 CNN's Kyra Phillips questioned NOM spokesperson and former New York Giant David Tyree over statements he made in a recent video for NOM that same-sex marriage would lead to lawlessness and anarchy.
Phillips challenges Tyree with a 23-year study from the UCLA school of law proving that kids raised by lesbian parents gained more respect for diversity and differences than kids raised by straight parents, and that same-sex couples have strong marriages.
Tyree is only left with the argument that "it's unnatural."
Phillips demands he clarify that as well. She definitely gets props for this segment.
Watch, AFTER THE JUMP…