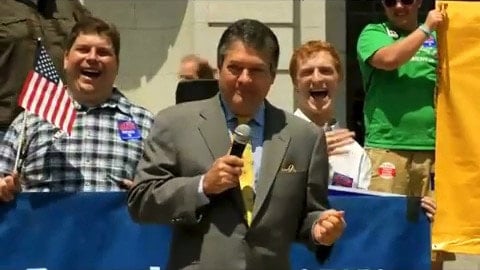 A same-sex marriage vote is still uncertain at this hour in New York, as it appears other issues are delaying the Senate from focusing on the measure. Earlier reports said language in amendments regarding religious exemptions was being tweaked.
Capitol Confidential is reporting the measure will wait at this hour.
Capital Tonight is saying other measures are coming first tonight:
That makes it a virtual certainty that same-sex marriage will not be voted on tonight or in the wee hours of Thursday. A Senate official said no agreement has been reached on an amendment for religious exemptions in the bill, but language has been proposed.
Then again, things are still very fluid so we shall wait and see.
We'll let you know if anything changes but for now check out this Lady Gaga mash-up that was created in honor of Senator Jim Alesi, the first Republican to come out in support of the marriage equality bill, and his remarks at the rally yesterday.
And keep calling those Senators.
Watch, AFTER THE JUMP…