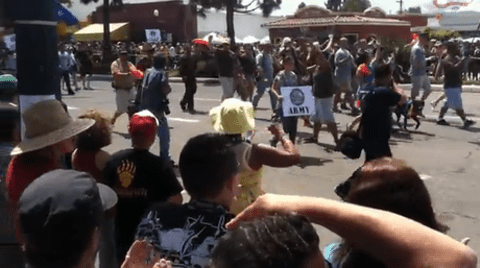 History was made today at San Diego's gay pride, where an estimated 200 active duty servicemen and women and veterans marched alongside their LGBT peers.
Waving American and gay pride flags, the troops broke came out in force to show their opposition to Don't Ask, Don't Tell, and may be the first active members to publicly marched in the annual LGBT event.
Via ABC News:
Many of the active-duty troops said they were moved to come out because it is time to end the military's ban on openly gay troops…

National Guard member Nichole Herrera, 31, said she didn't think twice about marching, even though the policy is back on the books. She said she was "choked up" several times as she walked down a main thoroughfare in San Diego, a major Navy port.

"This is one of the proudest days in my life. It's time for it (the policy) to be gone," Herrera said. "I'm a soldier no matter what, regardless of my sexual orientation."
…
Every branch of service was represented Saturday, including the Coast Guard. Marines and sailors ran out carrying their branch's flags over their heads.
As could be expected, the crowd went wild for the military men and women, especially former military police officer Miranda LeClair, who held a sign reading, "Proudly served in silence for nine years."
Watch video of the march, AFTER THE JUMP…