More on the lawsuit being filed today by civil rights groups over Minesota's Anoka-Hennepin School District's refusal to stand up against anti-gay bullying. The charges are detailed in a CNN report I posted earlier today revealing that the school is the target of a federal investigation. Seven suicides have taken place in the school over the past two years.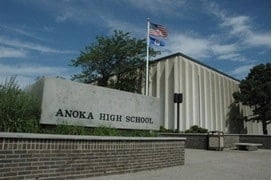 I've re-posted that report, AFTER THE JUMP…
A press release from the groups:
NCLR, SPLC, and Faegre & Benson filed the suit on behalf of five students who have faced severe anti-LGBT bullying and harassment while attending school in the district. It charges that the district's gag policy perpetuated the harassment suffered by these students and others. The suit was filed in the U.S. District Court for the District of Minnesota after the school district failed to address the persistent abuse or repeal its discriminatory policy.
Several instances of abuse are also detailed:
 One student faced daily verbal and physical harassment at school after classmates discovered that she is a lesbian. She reported the harassment to school officials numerous times, but the only response was an occasional verbal reprimand to the harassers. The student eventually dropped out of school and attempted suicide.
· Another student reported chronic anti-LGBT harassment to school authorities for more than two years, only to have school officials suggest that he leave the school because they could not protect him.
· A fourth student was picked on relentlessly because he likes to wear colorful clothes and sing songs by female artists. His school's response was not to address the harassment, but to treat him as the problem. The school prevented him from wearing "girly" clothing and made him miss class time to walk through the hallways separate from the other students, escorted by a staff member.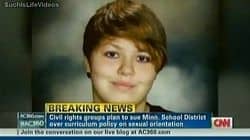 Said NCLR Executive Director Kate Kendell: "There is something seriously wrong in the Anoka-Hennepin School District, and district officials know it. In school after school, kids who are perceived as gay are harassed mercilessly until they drop out, melt down, or lash back. This epidemic of harassment — unlike anything we've seen in neighboring districts — is plainly fueled by the district's shameful and illegal policy singling out LGBT people and LGBT people alone for total exclusion from acknowledgement within the classroom."
Added Sam Wolfe, lead attorney on the case for the SPLC: "We are disappointed that the district fails to see the serious harm this policy is causing its students. School and district officials who are entrusted with the safety and education of all students continue to ignore, minimize, dismiss, and even blame victims for the abusive behavior of other students."
More about the lawsuit HERE.
Watch CNN's report, AFTER THE JUMP…