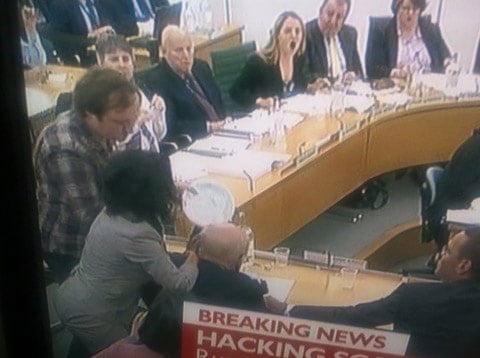 Live news coverage of the News Corp phone hacking coverage abruptly cut away to a painting (above) moments ago as CEO Rupert Murdoch was reportedly attacked by a young man with a pie.
The Guardian reports:
"Someone has just tried to attack Rupert Murdoch. His wife Wendi seemed to slap the person….A young man in a checked shirt has been detained by police…The BBC says the young man has been handcuffed. Sky showed the footage again – it seemed to be an attack from Rupert Murdoch's left…The suspect looks like he has a substance like white paint on his face…The BBC's Laura Kuenssberg thinks it's a bandage on the young man's face – Nick Robinson says it is shaving foam and the young man hit Rupert Murdoch with it…Reports claim the assailant is a UK Uncut activist."
Watch a video of the attack, AFTER THE JUMP…

UPDATE: Jonathan May-Bowles (known on Twitter by the name Jonnie Marbles), the activist who attacked Murdoch, tweeted shortly before taking action: "It is a far better thing that I do now than I have ever done before #splat."
Marbles had earlier tweeted: "I'm actually in this committee and can confirm: Murdoch is Mr Burns."
He added: "Rupert Murdoch appears to be going senile." He also tweeted: "It might be quicker if Baby Murdoch simply listed all of the things that he does know. "One gets the sense that they haven't really done the required reading ahead of their presentation. Think they may fail this module."
Marbles describes himself on his Twitter page as an "activist, comedian, father figure and all-round nonsense. Tweeting in an impersonal capacity." But UK Uncut moved swiftly to distance itself from the invader. "The pie in Murdoch's face was NOT a UK Uncut action, everyone!" it tweeted soon after.
(image via think progress twitter)