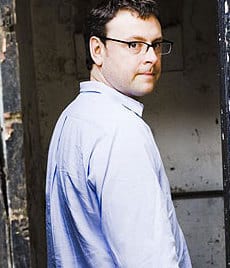 An opera penned by Billy Elliot writer Lee Hall has sparked a scandal in merry old England.
The opera, scheduled to open next week, was meant to be put on by Opera North and a local school.
Unfortunately, the school, which had previously encouraged 300 students to act in the production, had a few objections, and requested Hall remove the word "pee-pee," a scene featuring homophobic bullying, and alter an adult gay character's rhyme: "Of course I'm queer/That's why I left here/So if you infer/That I prefer/A lad to a lass/ And I'm working class/ I'd have to concur."
Hall agreed to a few changes, but he quite rightly refused to remove what he describes as "the character's straightforward defence of his sexuality," leading the school to back out of the production.
Read more, AFTER THE JUMP…
Incensed by the cancellation, Hall, pictured here, pointed the finger at Opera North. "I thought there must be some mistake and that Opera North would support me by finding a way round this completely outdated hysteria," he wrote. "No one will countenance the idea that there could be homophobia at play."
Hoping to distance themselves from the scandal, the opera company released a statement today insisting it had no part in the homophobic matter.
"We regret that some people associated with the project have decided to view the decision not to proceed with performances as being based on a homophobic fear on the part of Opera North," wrote general director Richard Mantle. "Opera North feels that the decision by Lee Hall to suggest that the production was cancelled due to a homophobic stance on the part of the company is unacceptable."
Lee vows to keep working on the opera, but for now has accomplished at least one of his piece's goals: "To challenge expectations and to invite discussion about issues that are more often swept under the carpet."