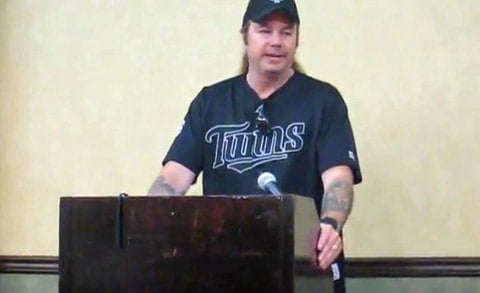 As I mentioned late Tuesday, Christian Metal Rocker and Michele Bachmann ally Bradlee Dean held a press conference yesterday announcing his lawsuit against MSNBC, Rachel Maddow, and Andrew Birkey of the Minnesota Independent for false accusations and defamation over remarks about homosexuals and Sharia Law which he says were misrepresented.
All the background and Maddow clips are HERE.
Watch Dean's press conference in NYC, AFTER THE JUMP…
The American Independent responded to Dean's lawsuit:
The allegations by Bradlee Dean and You Can Run But You Cannot Hide International (YCR) are completely without merit. The American Independent News Network stands firmly behind our news site, The Minnesota Independent; our reporter, Andy Birkey; as well as their reporting on Dean and his ministry. The complaint describes Birkey as taking "a 'special interest' in Plaintiffs Dean and YCR because he is a secularist and/or atheist and gay activist with a politically left ideology who despises people of faith." However, in giving Birkey and The Minnesota Independent first prize for Best Continuing Coverage of their reporting on YCR, the 2010 judges for the Minnesota Professional Chapter of the Society of Professional Journalist's Page One Awards stated, "the reporter [Birkey] takes a deep-dive with an even-handed approach into a weighty subject sure to provoke controversy from various standpoints. Leads readers to think about serious public policy and constitutional issues."
We are confident that the courts will agree that this lawsuit is completely frivolous and is a blatant attempt to chill freedom of the press.
As did MSNBC:
This suit is baseless and we stand by our reporting.
Dean and his lawyer canceled an appearance on Michelangelo Signorile's radio show yesterday. Clip.
Watch Dean's press conference in NYC, AFTER THE JUMP…