Rebekah Brooks, the Chief Executive of News International, Rupert Murdoch's British subsidiary, has resigned over the phone hacking scandal. Writes Brooks in her resignation letter: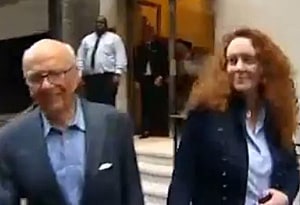 "At News International we pride ourselves on setting the news agenda for the right reasons. Today we are leading the news for the wrong ones.
"The reputation of the company we love so much, as well as the press freedoms we value so highly, are all at risk.
"As chief executive of the company, I feel a deep sense of responsibility for the people we have hurt and I want to reiterate how sorry I am for what we now know to have taken place.
"I have believed that the right and responsible action has been to lead us through the heat of the crisis. However my desire to remain on the bridge has made me a focal point of the debate.
"This is now detracting attention from all our honest endeavors to fix the problems of the past.
Meanwhile, the developments continue as scrutiny of the Murdochs intensifies:
The hacking scandal has freed British lawmakers, who have long lived in fear of [Murdoch's] power. They issued a summons to Murdoch and his son James to appear before a parliamentary committee investigating the scandal — a step that would have been unthinkable until recently.
In the U.S., the FBI has begun a preliminary inquiry based on concerns in Congress over a report that News Corp. sought to hack into the phones of Sept. 11 victims, Attorney General Eric Holder said Friday at a press conference in Australia, where he was attending a meeting of attorneys general from several nations.
SKY News, one of Murdoch's networks, covers the resignation, AFTER THE JUMP…