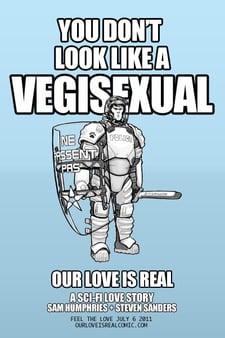 Comic book writer Sam Humphries, known for his work on the CBGB comic book, and illustrator Steven Sanders, who has worked on Uncanny X-Men, recently teamed up for what critics are calling a "splendidly perverse" sci-fi one-shot, Our Love Is Real.
Here's a summation of this limited edition funny book:
FIVE YEARS AFTER THE AIDS VACCINE… Plantsexuals riot in the streets for equal rights. Humans fall in love with dogs. And crystals are more than just jewelry.

A chance encounter on the job changes a riot cop's life forever as he finds himself caught in a bizarre love triangle that blurs romance, crime, and lust beyond recognition.
While social conservatives will no doubt have a kanipshin conniption over the book, fan boys and girls are already clamoring for Our Love Is Real.
If you're among them, you had better act fast: Humphries and Sanders are only printing 300 copies, which are being sold at select stores across the nation. There will, however, also be a digital edition.
I've included the complete list of stores that are carrying Our Love Is Real, AFTER THE JUMP…
Via Bleeding Cool:
LOS ANGELES – HOLLYWOOD
Meltdown Comics & Collectables
7522 West Sunset Boulevard
Los Angeles, CA 90046
(323) 851-7223
meltcomics.com
LOS ANGELES – SANTA CLARITA
Brave New World Comics
22722 Lyons Avenue #6
Newhall, CA 91321
(661) 259-4745
bravenewworldcomics.com
LOS ANGELES – SILVER LAKE
Secret Headquarters
3817 West Sunset Boulevard
Los Angeles, CA 90026
(323) 666-2228
thesecretheadquarters.com
NEW YORK CITY
Desert Island
540 Metropolitan Avenue
Brooklyn, NY 11211
(718) 388-5087
desertislandbrooklyn.com
PORTLAND
Floating World Comics
20 NW 5th Ave #101
Portland, OR 97209
(503) 241-0227
floatingworldcomics.com
SAN FRANCISCO
Isotope Comics
326 Fell Street
San Francisco, CA 94102
(415) 621-6543
isotopecomics.com
TORONTO
The Beguiling
601 Markham Street
Toronto, ON M6G 2L7, Canada
(416) 533-9168
beguiling.com