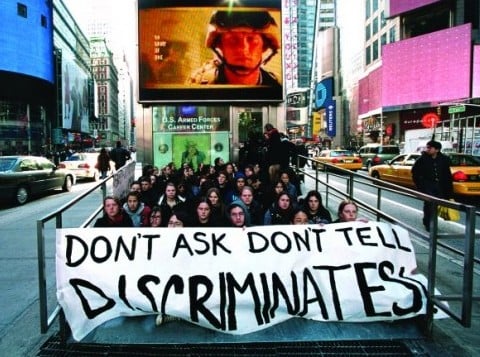 Don't Ask, Don't Tell's day are numbered!
Well, for now, at least, because a panel of three judges from the 9th U.S. Circuit Court of Appeals in San Francisco ruled unanimously today in favor of the Log Cabin Republicans' lawsuit asking for an injunction stopping any and all discharges of openly gay servicemembers.
"Appellants/cross-appellees state that the process of repealing Section 654 is well underway, and the preponderance of the armed forces are expected to have been trained by mid-summer," they wrote in their decision. "The circumstances and balance of hardships have changed, and appellants/cross-appellees can no longer satisfy the demanding standard for issuance of a stay."
Activists from coast-to-coast are thrilled with the news, especially since the military has continued discharges, even after DADT was officially repealed.
Read more, AFTER THE JUMP…
"Today's decision by the Ninth Circuit Court of Appeals is most welcomed. It's the hope of Servicemembers Legal Defense Network that this favorable ruling will not be challenged by the Defense Department," said Servicemembers Legal Defense Network.
Alexander Nicholson, executive director for Servicemembers United, also released a statement, "With the wait for certification dragging out beyond a reasonable time frame, the Court has once again stepped in to require the Pentagon to stop enforcing 'Don't Ask, Don't Tell,' and this time it very well may be for good."
He was sure to warn, however, that "servicemembers should still remain extremely cautious with information regarding their sexual orientation for the time being. The issue remains in a state of flux, although guarded optimism is certainly warranted."
Human Rights Campaign, meanwhile, had this to say: "Today's decision is a harbinger that 'Don't Ask, Don't Tell' is on its way out. With troops trained on the new policy and senior military leaders having said the process is working without significant disruption, DADT is on its last legs. The time for certification is now in order to clearly and plainly wipe this damaging law off the books once and for all."
A different set of judges had previously ordered a stay of LCR's injunction. The court has also set oral argument appeals for the week of August 29th.
Here is a PDF of today's ruling.