Designs have been chosen from a competition for two "Pop-Up" chapels that will be constructed at Merchants' Gate near 59th Street in  Central Park this Saturday. 24 gay and lesbian couples have been selected to marry in them. Pop Up Chapel begins at 10 am.
Architizer, which sponsored the competition with The Knot, writes about the winning entries:
Z-A Studio's "KISS" is a tulip-like volume, comprised of gently caressing waves of stacked recycled honeycomb cardboard. The ensemble is supported by a plywood base, while all materials will be affixed using common wood glue. The architects suggest that the union of the two delicate forms creates a "stable entity, that is more than the sum of its parts"–an apt description of marriage, we think. When abstracted the same sentiment speaks to the nature of architectonics and space, which, perhaps, is only made present by the joining of constituencies. The formal motif can also be extended to other parts of the site, with curving tables and benches accommodating guests and other couples. We also loved the architect's adorable send off: "Give KISS a chance!"
ICRAVE's Pop Up Chapel is an effervescent cascade of hanging ribbons which sets a colorful backdrop to the day's happy proceedings. The chapel's form is a metal frame covered with white ribbon, whose ceiling is a lightweight wire mesh to which vibrant, multicolored ribbons are fastened. The ribbons vary in length and are patterned to create a parabola-shaped interior gathering space, under which will the nuptials will take place. When the day has passed, the ribbons will be handed out to the married couples as keepsakes. All we can say is, "Yay!"
More at Architizer…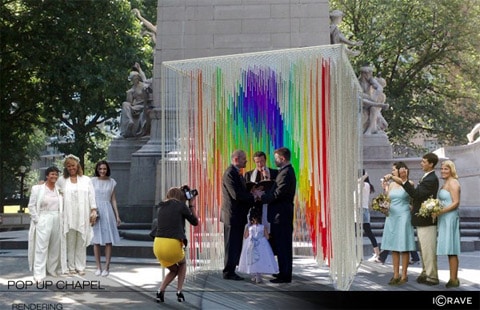 City Room wrote about the chapels and event:
According to the rules of the contest, designs must be installed in no more than two hours, and have a footprint no larger than 8 feet by 8 feet. A jury of architects and wedding planners will select two winning submissions, whose designers will receive $3,000 for construction and installation.
The 24 gay couples — 24, for June 24, the date the law was passed — were chosen on a first-come, first-serve basis, and the parks department has agreed to allow the chapels at the Merchants' Gate plaza, near West 59th Street.