Back in February 2010, I posted about Miami Beach police harassing and arresting a gay man after he witnessed them abusing a suspect. The gay man, Harold Strickland (pictured), was on the phone with 911 reporting their assault when the cops came after him. The ACLU filed suit against the Miami Beach police last November.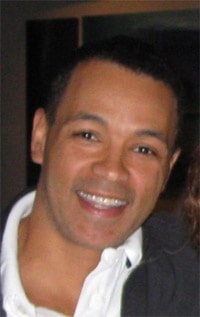 Now, the Miami Herald reports that the two officers involved are being fired:
Officers Frankly Forte and Eliut Hazzi learned Monday of the city's intent to kick them off the police force and were relieved of duty without pay, according to City Manager Jorge Gonzalez. He said a hearing in which the officers will have a chance to fight for their jobs has been scheduled for Aug. 1.
***
After a nearly year-long investigation, prosecutors also declined to press charges against Hazzi and Forte, saying there was insufficient evidence to prove the officers' guilt to a jury. Instead, they suggested Miami Beach police take "appropriate action."
Miami Beach police issued a statement Monday saying that although the "investigation concluded that no crime could be proven in relation to the officers' actions, serious questions were raised about their conduct during the incident."
While the criminal investigation is closed, the ACLU case is still on. Strickland is seeking more than $15,000 in damages.
Said ACLU spokesman Derek Newton of the firing: "It's a very satisfying outcome, assuredly, to demonstrate clearly that officers who violate the public trust and engage in misconduct will be subject to consequences. We think that's very positive and encouraging. We hope that it sets a standard for other communities in the region and state in addressing police misconduct."