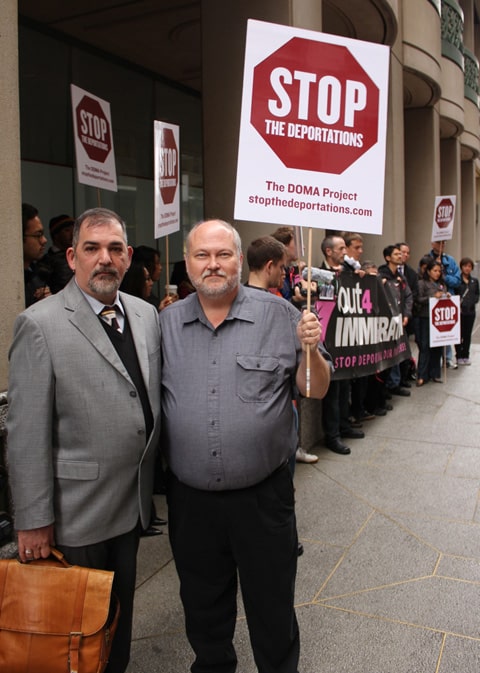 An immigration judge Wednesday halted deportation proceedings for Alex Benshimol, a Venezuelan citizen who married his husband Doug Gentry last year in Connnecticut, providing another victory for binational same-sex couples targeted by unfair immigration laws.
The Contra Costa Times reports:
Judge Marilyn Teeter instructed Immigration and Customs Enforcement to inform her court within 60 days about whether it plans to pursue Benshimol's deportation or close the case. The couple's lawyer, Lavi Soloway, cited a memo issued by the nation's director of immigration enforcement last month that told agents to use discretion when seeking to deport illegal immigrants. While the memo makes no mention of gay couples, it does tell agents to use discretion when immigrants have family members in the U.S. The couple hopes that more time will give the government a chance to clarify its position on deporting gays and lesbians who have U.S. citizen spouses.
Teeter also put the deportation on hold by at least two years by ordering the couple to come back for a hearing in September 2013.
Said Lavi Soloway, lawyer for Doug and Alex, and founder of Stop the Deportations:
"Today the Immigration Judge demonstrated compassion and understanding for Doug and Alex as a married binational couple, granting them a reprieve from deportation by postponing further proceedings to September 2013. The Judge also gave the government 60 days to inform the court whether it will agree with our request to terminate these proceedings pursuant to prosecutorial discretion guidelines issued June 17 by Immigration and Customs Enforcement Director John Morton. We will continue to advocate for termination of these proceedings and a moratorium on all deportations of spouses of lesbian and gay Americans.
"Today's victory is yet another sign that when we engage the system and demand full equality we encourage those in power to find reasonable interim solutions that protect LGBT families, even as we fight to bring about an end to DOMA. Doug and Alex showed tremendous courage standing up for all binational couples as they insisted on fighting for an end to the government's deportation proceedings against Alex. After the hearing the couple went for a celebratory lunch and looked forward to spending time with their extended family including Doug's two children who consider Alex to be their step-father. They are very relieved to have been given a two year reprieve and they will continue to fight for an end to DOMA deportations.
Unfortunately, there are more cases like this on the horizon. This morning, Costa Rican immigrant David Gonzalez faces a deportation hearing in Houston as he fights to stay with his husband Mario Ramirez, a U.S. citizen. Here's their story at Stop the Deportations.
(photo via stop the deportations)