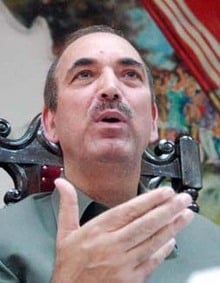 Indian health minister Ghulam Nabi Azad reportedly called homosexuality "a disease" at an HIV/AIDS conference yesterday, sparking massive amounts of outrage and astonishment.
Upon hearing Azad's comment, Indian commentator Suhel Seth remarked, "It just shows how the world's youngest country is being run by dinosaurs…not is the comment in bad taste but suggests an intolerance that is reminiscent of a primitive era," while writer Taslima Nasreeen said, "No sane person would say, homosexuality is a 'disease.'"
According to Azad, however, he actually said that HIV, not homosexuality, "is a disease spread from abroad."
"I did not use the gay word or homosexuality. I in fact spoke in their favor," the minister explained. "I was made a villain and quoted out of context."
But CNN's account of the matter paints a different picture, and quotes Azad as saying, "The issue to worry about is that this disease of men having sex with men has unfortunately arrived in India, too. This is completely unnatural and shouldn't happen, but is there." 
If that is indeed an accurate quote, then Azad's retelling is clearly skewed, and no amount of backpeddling can — or should — save his reputation.