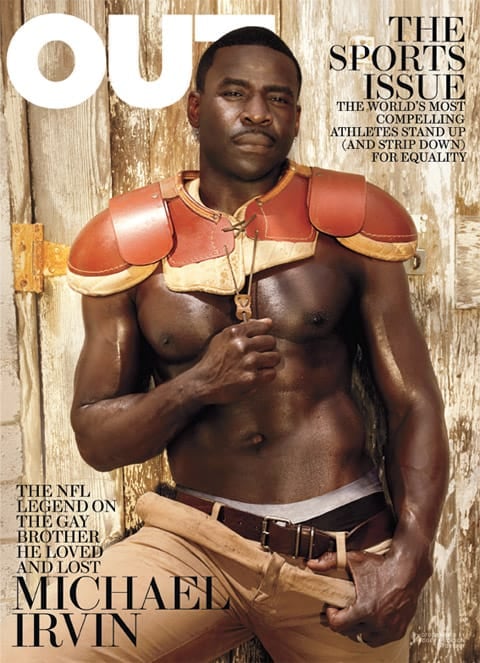 NFL Hall of Famer and former Dallas Cowboy Michael Irvin appears on one cover of OUT's new 'straight ally' sports issue (rugby icon and anti-bullying champion Ben Cohen appears on another. See, AFTER THE JUMP), and offers his support of marriage equality inside:
"I don't see how any African-American with any inkling of history can say that you don't have the right to live your life how you want to live your life," says Irvin. "When we start talking about equality and everybody being treated equally, I don't want to know an African-American who will say everybody doesn't deserve equality."
Irvin discusses finding out his brother Vaughn was gay when he saw him walking down the street near their home in women's clothes. He attributes some of his bad behavior during his years as a Cowboy to his resistance to that:
"Maybe some of the issues I've had with so many women—just bringing women around so everybody can see—maybe that's residual of the fear I had that, if my brother is wearing ladies' clothes, am I going to be doing that? Is it genetic? I'm certainly not making excuses for my bad decisions. But I had to dive inside of me to find out why I was making these decisions, and that came up."
Irvin also discusses the lack of openly gay athletes in pro sports: 
"If I'm not gay and I am afraid to mention it, I can only imagine what an athlete must be going through if he is gay….If anyone comes out in those top four major sports, I will absolutely support him. I think growth comes when we share. Until we do that, we're going to be stuck in the Dark Ages about a lot of things. When a guy steps up and says, 'This is who I am,' I guarantee you I'll give him 100% support."
Check out the cover with Ben Cohen, AFTER THE JUMP…
Read Irvin's full story here.