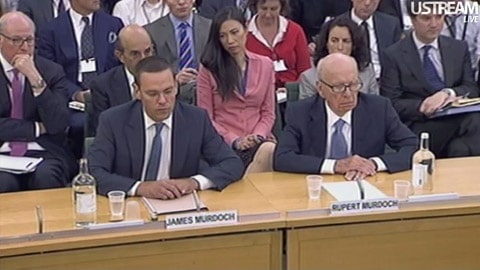 UK Hearings into the News Corp phone hacking scandal before the House of Commons culture, media and sport committee are underway:
The hearings were on Tuesday were being held in two bland committee rooms across from the House of Commons, close to the River Thames in the Westminster area of central London.
News Corp CEO Rupert Murdoch and his son James are scheduled to appear at 9:30 am EDT and News of the World editor Rebekah Brooks is scheduled to appear at 10:30 am EDT.
The Guardian reports that the hearings are running behind schedule, perhaps an hour and a half, but you can follow on its LIVE BLOG, and take note of who is speaking at the moment.
Watch and see archived clips, AFTER THE JUMP…
Open this post in a new window by clicking HERE.
ARCHIVED CLIPS
Murdoch says he is not responsible, and calls it "the most humble day of [his] life."