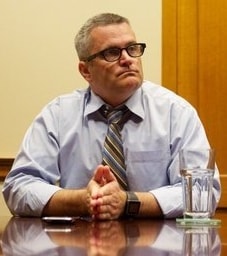 Openly gay Portland Mayor Sam Adams announced yesterday that he will not seek reelection.
In addition to wanting to focus on his job, Adams, who was elected in 2008, said that he's not sure he could win against opponents who are lining up to challenge him.
From the Miami Herald:
Adams said in an interview in his office that he decided not to seek re-election because he'd have to campaign and fundraise full time. He also said he wouldn't be able to work on his agenda if he had to start campaigning now.
…
Adams, who would have faced at least two prominent challengers in a re-election bid, said the prospect of a difficult campaign helped him make a decision.

"To run for mayor would be a tough race," Adams said. "It would require that I spend a lot less time on the issues and challenges Portland is facing, and I'm not just willing to phone it in as mayor."

When asked whether an easier race would have changed his mind, Adams responded, "It might have, but I've got to deal with the situation at hand."
Adams' mayoral tenure has been plagued with scandal, first from a confession that he had a sexual relationship with an 18-year old legislative aide, then because of his financial troubles, including missing mortgage payments, and two unsuccessful recall efforts.
Mayor Adams has not decided whether or not to endorse the candidates who hope to take his place.