UPDATE: Obama has made the nomination.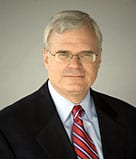 "I am honored to nominate Michael Walter Fitzgerald to the United States District Court," President Obama said.  "His impressive career stands as a testament to his formidable intellect and integrity.  I am confident he will serve the people of California with distinction on the District Court bench."
Earlier post
Politico reports that Obama is planning to nominate a fourth openly gay judicial candidate:
The White House plans to announce the nomination of Michael Fitzgerald, a lawyer with Corbin, Fitzgerald and Athey, to the U.S. District Court for the Central District of California. Fitzgerald, 51, a graduate of Harvard University and the University of California Berkley Law School, previously served as an assistant U.S. attorney in California and has been a practicing trial lawyer for 20 years.
Another Obama nominee, J. Paul Oetken, was confirmed this week as U.S. District Judge for Southern New York and will be the first out gay man to serve on the federal judiciary.
Politico adds that confirmation for two others is still pending:
Alison Nathan, another openly gay nominee to the Southern District of New York, was reported out of the Senate Judiciary Committee last week. Edward DuMont, who was nominated to the U.S. Court of Appeals for the Federal Circuit, has not yet been reported out of the Judiciary Committee.