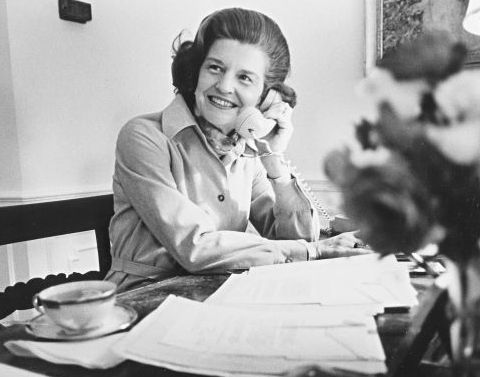 Former First Lady Betty Ford died yesterday at the age of 93.
Aside from her life as late President Gerald Ford's wife of 58 years, Mrs. Ford will also be remembered for breaking Republican ranks to back the Equal Rights Amendment, abortion rights for women and for her public battle against breast cancer, as well as alcohol and prescription drug addiction.
That addiction led Mrs. Ford to open the world-renowned Betty Ford Clinic.
Those who knew her personally, however, will also remember her casual approach to White House living and keen, mischievous sense of humor.
From the New York Times' obituary:
Mrs. Ford brought a relaxed touch to the White House within days of moving in. She asked why the staff never returned a greeting and was told that President Nixon and the first lady, Pat Nixon, had preferred them to be as silent and invisible as possible. An immediate change went into effect, to the degree that during family meals the president and the butler compared golf scores. And when Mrs. Ford returned from her mastectomy, the staff lined up with signs reading, "We love you, Betty."

She disliked other manifestations of Mrs. Nixon's formal tastes, particularly the choice of stiff furniture, which had replaced the more comfortable Kennedy ambience from the early '60s. Although she left the décor as it was, she could not resist a bit of deviltry. A ceramic bowl in the Yellow Oval Room was supported by two Greek goddesses, one of them with her hands out. "Every time I went through," Mrs. Ford said, "I used to put a cigarette between her fingers."
A progressive social warrior who knows how to laugh? That's rare in Republican circles these days.