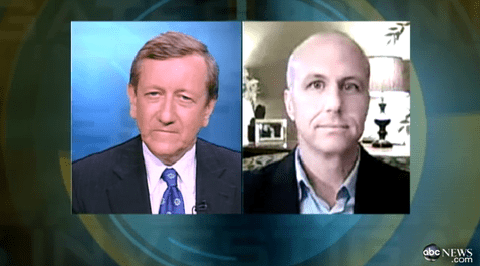 For every cloud, the popular saying goes, there is a silver lining. And that's no less true than in the case of Michele Bachmann's husband, Marcus, and
his "ex-gay" clinic
.
As word of Mr. Bachmann's practice spread, mainstream media started taking a closer look at so-called "reparative therapy," a topic more often discussed among LGBT people, and spreading the truth to the American people, as ABC News' Brian Ross did last night.
Intrigued by Bachmann's dubious practice, Ross interviewed Dr. Jack Drescher, a psychiatrist who specializes in debunking "ex-gay" conversion.
Saying that ex-gay theories are "so far outside the mainstream it's practically on Mars," Dr. Drescher contended, "We don't know what causes homosexuality, we don't know what causes heterosexuality, and since we don't what causes it, we don't know how to change it. There is no science that effectively states [reparative therapy] this can work, this can change."
In the interest of keeping his coverage fair and balanced, Ross also interviewed Alan Chambers, leader of the "ex-gay" group Exodus International. And, according to Chambers, he and his peers are just like Weight Watchers.
Asked whether Christian therapy can indeed help people overcome same-sex desires, Chambers insists, "We can look at other organizations who help people dealing with other life struggles. For instance, Weight Watchers… Should we go after Weight Watchers and tell them 'Don't say that there's anything beyond obesity' for people who are struggling with obesity and want an alternative to that?"
While Chambers' remarks is completely off-the-wall, and definitely worth a view, he also said something even more compelling: that when he was a child struggling with his same-sex desires, he thought,"I didn't choose" to be gay and "didn't want" to be gay.
In Chambers' view, then, he was born gay, but it didn't fit into his "life plan," an assertion that implicitly contradicts ex-gay and right wing claims that people "choose" to be gay.
Watch Ross' report, AFTER THE JUMP…