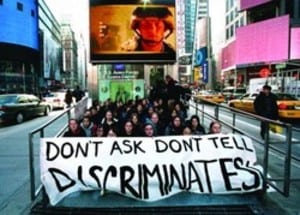 The U.S. Court of Appeals for the Ninth Circuit reversed course a bit on its injunction against Don't Ask, Don't Tell yesterday.
The San Francisco-based court previously approved a Log Cabin Republican injunction and ordered the military to stop investigating, discharging and penalizing people under DADT. That ruling also declared that the armed services should start accepting applications from openly gay people.
The government, however, balked at the ruling, claiming the injunction would disrupt the "orderly process" of DADT's repeal, and would go against Congress' wishes.
"Congress made quite clear that it believed the terms of the transition were critical to the credibility and success of this historic policy change, and to ensure continued military effectiveness," the Department of Justice said in its request.
The court, citing the government's "previously undisclosed facts," including military leaders' written objection to the injunction, apparently agreed.
While officials are still barred from investigating, penalizing or discharging servicemen and women under DADT, they can and technically should still reject openly gay applications.
Lambda legal legal director Jon W. Davidson described the decision as "whiplash," and blasted the Obama Administration for its "double speak" on DADT.
"This whiplash is surely confusing for many people. The administration needs to stop saying that certification under the Don't Ask, Don't Tell Repeal Act is coming soon and just issue it," Davidson wrote in an email to supporters. "The government has failed to show any reason why the policy cannot be halted immediately other than to claim that the military will respond better if it is not having to do so pursuant to a court order."
The government now has until Monday to explain why it withheld the military's "undisclosed" opposition, and the Log Cabin Republicans have until Thursday to enter a reconsideration. The rest of us, meanwhile, have to stop our heads from spinning.