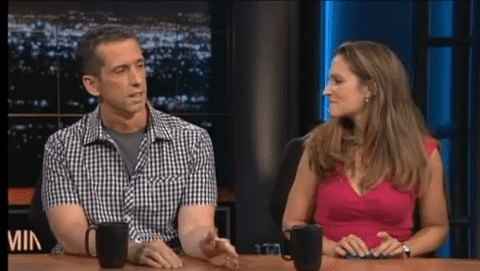 Columnist and gay activist Dan Savage didn't hold back when discussing Marcus Bachmann's "ex-gay" clinic on Real Time with Bill Maher Friday.
After pointing out that professional medical associations describe ex-gay therapies as abuse can in some cases leads to suicide, Savage insists, "You can't pray away the gay, but you can torture a conflicted closet case to death, which is what they practice at these clinics like Marcus Bachmann runs when he's not flitting around."
The roundtable also discusses how Marcus and Michele Bachmann use government funds for their various businesses, including farm subsidies, which leads Savage to conclude, "[Farm subsidies] are the biggest scam in the god damn country… They're grifters and scumbags, the Bachmanns."
Comedian Marc Maron then jumps in to offer his off-color thoughts about the Bachmann's sex life, spurring Savage to turn his attention to anti-gay presidential candidate Rick Santorum. It's predictably naughty — and hilarious.
Watch the NSFW discussion, AFTER THE JUMP…