Some troubling news from the CDC on HIV: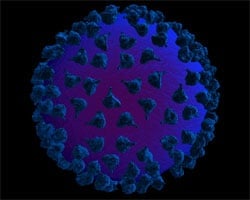 The CDC's first multi-year estimates from its national HIV incidence surveillance find that overall, the annual number of new HIV infections in the United States was relatively stable at approximately 50,000 new infections each year between 2006 and 2009.  However, HIV infections increased among young men who have sex with men (MSM) between 2006 and 2009, driven by alarming increases among young, black MSM – the only subpopulation to experience a sustained increase during the time period.
The new estimates were published today in the online scientific journal PLoS ONE.  The incidence estimates are based on direct measurement of new HIV infections with a laboratory test that can distinguish recent from long-standing HIV infections.
"More than 30 years into the HIV epidemic, about 50,000 people in this country still become infected each year.  Not only do men who have sex with men continue to account for most new infections, young gay and bisexual men are the only group in which infections are increasing, and this increase is particularly concerning among young African American MSM ," said CDC Director Thomas Frieden, M.D.  "HIV infections can be prevented.  By getting tested, reducing risky behaviors, and getting treatment, people can protect themselves and their loved ones."
The NYT adds:
Larry Kramer, a longtime AIDS activist and the author of "The Normal Heart," a play about the epidemic's early days, said: "It means I don't see an AIDS policy, and I don't see anyone in charge. It's so dispiriting that it's hard to find something to say about it. How many times can you yell 'Help!' without ever getting anywhere?"
Both Dr. Kevin Fenton, chief of AIDS prevention for the C.D.C., and Dr. Anthony S. Fauci, chief of AIDS research at the National Institutes of Health, took issue with Mr. Kramer's interpretation. While both agreed that 50,000 new annual infections was, in Dr. Fauci's words, "a great concern," both pointed to some areas where substantial progress had been made. They said that new studies were seeking ways to get more people tested and treated early in the course of the illness, which would make them less infectious and drive transmission rates down.