Conservative Chilean President Sebastián Piñera introduced legislation today to recognize same-sex civil unions, AFP reports.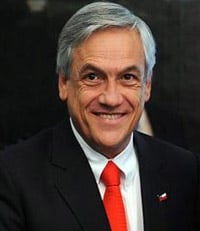 Said Pinera: "All forms of marriage deserve respect, dignity and the support of the state. This puts opposite-sex and same-sex couples on the same footing, because in both cases it is possible to develop love, affection and respect."
Carlos Larrain from the Renovation National and Juan Antonio Colona of the Independent Democratic Union (UDI) boycotted introduction of the legislation, which was reportedly a campaign promise.
Pinera remains opposed to same-sex marriage, AFP adds: "I deeply believe that marriage is by nature between a man and a woman, but that conviction does not prevent me from recognizing that other forms of affective relationships exist."
The AP reports: "Gays and lesbians see Sebastian Pinera's signature on the bill he's sending to Congress as a big step toward equality."