Over the weekend, Andrew posted about Frank Borzellieri, the principal at Our Lady of Mount Carmel, a Bronx Catholic school with students who are predominantly black and Latino. Borzellieri was exposed by the NY Daily News as a racist homophobe who espoused his views in a book called Don't Take It Personally: Race Immigration, and Other Heresies and as a school board member in Queens tried to "Ban literature he labeled 'anti-American' from school libraries. His targets included books on different races and culture, and a biography of King" and "remove an openly gay teacher and gay-rights activist from the classroom at Public School 199 in Sunnyside, and ban school employees from making any references to homosexuality."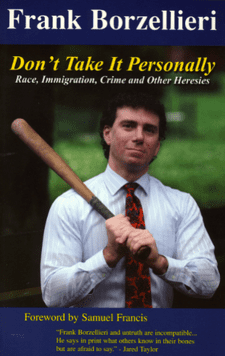 That didn't go over well in the Bronx. A church-goer yesterday interrupted the service at Our Lady of Mount Carmel to call for Borzellieri's removal, the NY Daily News reports:
"I wanted them to feel my sense of outrage that he was brought into the community to teach," said Juan Varela, 54, who was arrested yesterday on disorderly conduct and weapons possession charges and spent seven hours in police custody. Varela, who is Catholic but lives in Queens, said he sat in a pew during the 10 a.m. Mass. At one point he stood up, walked to the altar, faced parishioners and began railing against Borzellieri.
"This church hired a racist. This church does not like Hispanics and blacks," one police source quoted Varela as saying. Cops said he initially refused to leave, but finally complied. He said he was kicked from behind by ushers at the back of the church as he tried to exit.
Varela, who was arrested shortly thereafter, was charged with criminal possession of a weapon — a knife — and disorderly conduct.