NOM loses its battle to hide its activities yet again, the Providence Journal reports: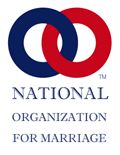 The National Organization for Marriage had challenged Chief U.S. District Judge Mary M. Lisi's refusal in October to grant a preliminary injunction that would have allowed the group to avoid disclosing money it spent to support various candidates, in accordance with state election laws. The group, which has launched similar lawsuits nationwide, had argued that Lisi erred when she denied the request.
Judge Lisi concluded the disclosure law imposed little burden on the group and had a valuable governmental interest in identifying the people who give more than $100 to a support or defeat a candidate.
U.S. 1st Circuit Court of Appeals Judges Juan R. Torruella, Michael Bounding, and Kermit V. Lipez upheld Lisi's ruling Thursday in a decision that echoes a similar ruling delivered the same day regarding election laws in Maine.