Thirteen embassies seated in Prague, including Canada, Germany, Spain, United States, Austria, Belgium, Denmark, Estonia, the Netherlands, Norway, Sweden and Switzerland signed a joint statement supporting the Prague Gay Pride carnival to be held next week, following homophobic remarks last week from Petr Hajek, an aide of Czech President Vaclav Klaus (pictured), which were endorsed by his boss.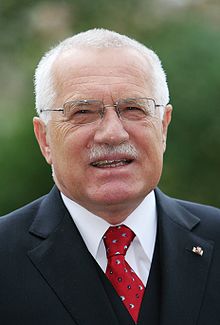 Said Hajek:
"The homosexuals' pressure action that will take place under the 'pretty Czech name' gay parade in Prague is not any innocent entertainment…It is a serious demonstration of a certain vision of the values in the world. It is a world in which traditional family plays no role…In this world, the monster of multiculturalism devours deep national traditions and cultural roots…It is a world in which sexual or any other deviation is elevated to a virtue, abnormality to a norm, the destruction of society to holy progress…A white man, heterosexual and Christian [is typically the endangered species in the world the participants in the event advocate]."
The British Embassy initiated the statement of support, according to Prague Monitor,  but claimed that it has no connection with the statements of Hajek and Klaus.
Said the statement: "We express our solidarity with the lesbian, gay, bisexual and transgender communities in the Czech Republic, supporting their right to use this occasion to march together peacefully and lawfully, in order to raise awareness of the specific issues that affect them…Our governments seek to combat such discrimination based on sexual orientation and gender identity by promoting the human rights of all people."
Klaus today condemned the 13 embassies for their support:
Klaus says he considers a joint statement by the diplomats based in Prague, including U.S. Ambassador Norman Eisen, an "unprecedented step." The president said Monday he could not imagine that any Czech ambassador would dare use a petition to influence a political discussion in any democratic country.