Five women were attacked in late July outside the Columbia Heights Metro station at 3 a.m. after telling their attackers they were gay. An officer at the station took a report three days later, the Washington Blade reports: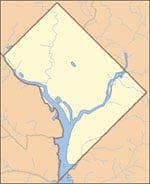 The report says the two suspects began to "flirt" with two of the women. It says one of the women responded by telling the men she wasn't interested and she was with her girlfriend.
"Suspect 1 became enraged and stated, "You fucking dyke bitches, I will kick that bitch's ass," the report says. "I will take that dyke bitch into the alley and kick her ass," the report quotes suspect 1 as saying.
The six or seven officers who arrived on the scene the night of the attack, in four police cars, apprehended a suspect and let him go, the women said. Meanwhile, another suspect filmed the entire attack on his phone. The suspects reportedly punched each of the women in the head and face:
The victim, who asked that her name be withheld, said she, Morse and the other three women targeted by the two men were horrified when the man that police released began to laugh and taunt the women as he walked away.
"He walked across the street laughing," she said. "And I will never forget his face – he was just smiling. And we are five people who are in tears and he is just laughing at us."
Meanwhile, a transgender woman, Camila Guzman, was recently found murdered in her apartment in Harlem. WABC7 covered the story here.
GLAAD urged the media to cover the story in a respectful and accurate way:
There has been little media coverage of Camila's story so far, and that which exists is not respectful. "Camila's friends and the transgender community overall are not happy with her portrayal in the news … We deserve respect and increased advocacy around the prevention of anti-transgender violence," said Ruby Teresa Chavez, a friend of Camila.