The L.A. Times reports that in the trial of Brandon McInerney for the murder of classmate Lawrence King, the defense has been loading up the "he asked for it" witnesses: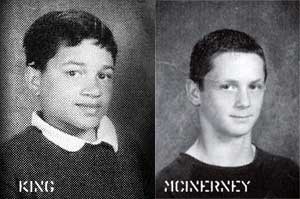 How school officials handled King has emerged as a major theme of McInerney's defense attorneys, who acknowledge that the boy pulled the trigger but say that he was pushed to the breaking point by King's taunts.
That King taunted McInerney:
It wasn't just that King, 15, had begun wearing makeup and women's spiked-heeled boots, witnesses testified. It was that he seemed to relish making the boys squirm at his newly feminized appearance and was taunting them with comments like "I know you want me."
And gay panic drove him to put a bullet in King's brain:
On the following Monday, the grievance was denied by the school's administration, Ekman said. King, meanwhile, continued to clash with boys at school and paid special attention to McInerney, according to court testimony. After lunch that day, he passed McInerney in a corridor and mockingly said, "Love you baby!"
History teacher Arthur Saenz testified that on that same Monday, Feb. 11, 2008, he noticed King "parading" back and forth in high-heeled boots and makeup near a bench where McInerney was sitting after school waiting to be picked up. A group of boys was laughing as McInerney grew visibly angry, Saenz testified.
Closing arguments are likely next week.