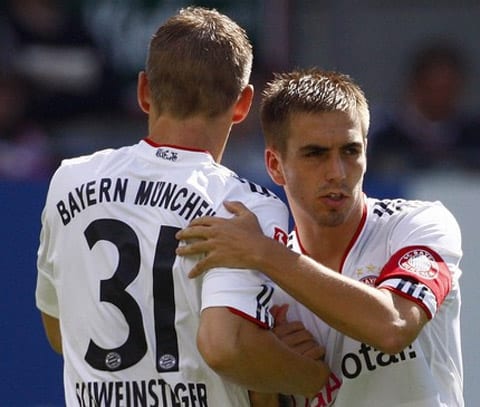 Germany football captain Phillip Lahm has published a new memoir which has angered officials for its criticism of past coaches and fellow players.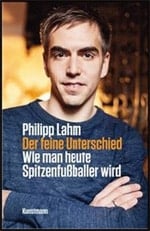 Lahm also suggests that gay footballers should not come out of the closet, because of potential repercussions, like death, Reuters reports:
"I would not advise any gay professional footballer to come out," Lahm wrote in his autobiography 'The Subtle Difference'. "I would fear that he could end up like Justin Fashanu who after he outed himself was driven into such a corner that he ended up committing suicide," the 27-year-old Bayern Munich captain added.
Lahm said, however, that he personally would have no problems if a player decided to come out. "I have nothing against homosexuals and I do not consider homosexuality as something reprehensible," he said.
Fashanu is the only player to have announced he was homosexual during his professional career.
Lahm also reportedly denies he's gay in the book, AFP reports:
"First, I am not a homosexual. I am not married to my wife Claudia for appearances and I do not have a friend in Cologne with whom I really live," Lahm wrote in the book…
"This speculation doesn't matter to me," he said referring to rumours about a male companion in Cologne. "I have nothing against homosexuals and I find that there is nothing wrong with homosexuality."
"But it never ceases to amaze me that these isolated types, who tell these stories, can have a lot of influence on public opinion. 'Philipp Lahm homosexual' (…) do you not have anything more important to talk about?" he said.
This topic is not unfamiliar to followers of German football.
In June 2010, Michael Becker, a top sports agent, claimed that the German national team's elegance in the World Cup was attributed to the fact that there were "a bunch of gays" on the team.
In November of that year, Bayern Munich player Mario Gomez urged gay footballers to come out of the closet, saying, "They would play as if they had been liberated. Being gay should no longer be a taboo topic."
Last February, German goalie Manuel Neuer echoed Gomez' remarks, saying, "Yes, those who are homosexual should say so. That would take a load off their minds…And the fans would get over it quickly. What is important to them, is the performances on the pitch of the player, not his sexual preferences."