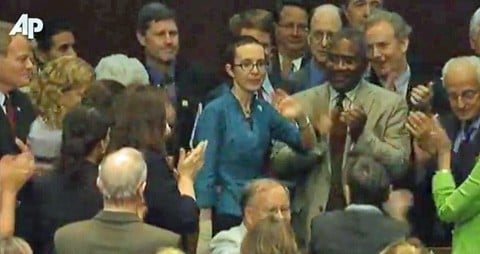 Rep. Gabrielle Giffords returned to the House for the first time since being shot in early January to vote on a compromise to raise the debt ceiling, in an emotional surprise moment that capped weeks of frustrating, contentious dealmaking:
Ms. Giffords waved and quickly was surrounded by her Democratic colleagues. Some Republicans crossed the aisle to see her, too, as she rose to wave again.
Representative Nancy Pelosi of California, the minority leader, hailed the return of Ms. Giffords, saying: "There isn't a name that stirs more love, more admiration, more respect, more wishing for our daughters to be like her than the name of Congresswoman Gabby Giffords. Thank you, Gabby."
Giffords tweeted: "The #Capitol looks beautiful and I am honored to be at work tonight."
The House approved the deal 269-161.
Watch, AFTER THE JUMP…