NATHANIEL ROGERS
…would live in the movie theater but for the poor internet reception. He blogs daily at the Film Experience. Follow him on Twitter @nathanielr.
 
YOUR FEATURE PRESENTATION
I can't vouch for any of my memories of GLEE: THE 3D CONCERT MOVIE given the heat that melted my brain completely before the screening (will this summer ever end?) but as it began I thought I heard the familiar cutesy acapella that accompanies each episode underscoring everything at twice its usual speed and for thrice as long. Accapella voices hum and doo-doo-doo as if on steroids while the cameras frantically recreate / capture the fan hysteria outside the venue hall.
The opening sequence did not end with "… and that's what you missed on Glee ♪" but it didn't need to. Glee: The 3D Concert Movie is, as it turns out, a giddy recap styled as revue. For instance, the first number is show and pop culture staple "Don't Stop Believin'" with the cast wearing variations of the humble polo and jeans ensembles they wore while performing it on the charming relatively low-key pilot episode 27 months and 43 wildly uneven pre-phenomenon episodes ago. The climax, and the one tailor-made for 3D technology what with its slushee/confetti transubstantiation, is their regionals finale "Loser Like Me". You know you want that slushee in your face, Gleeks! In short, the concert is a Greatest Hits CD, with each popular character getting their own numbers (or two or three: greedy Rachel & Blaine) and the less popular or non-singing characters forced to share or go without (Zises, Quinn & Sam, Tina & Mike).
The first surprise of the movie is that the cast performs in character, referring to each other by their Glee names in backstage interstitials which always serve as comic relief between cheesetacular numbers. The best of them is Rachel's (Lea Michele) reaction when she hears that Barbra Streisand is in the audience. (Rachel or maybe Michele is weirdly hated online but anyone who thinks she/they isn't/aren't gifted is willfully delusional) Brittany S. Pierce (Heather Morris) continues to prove herself as the show's new comic MVP (sorry Jane Lynch) and she is right about her boobs, which she stops to praise before unleashing them in homage to the other Britney's "Slave 4 U". It's true: they're spectacular in 3D.
But what of Mr. Shuester? MORE, AFTER THE JUMP…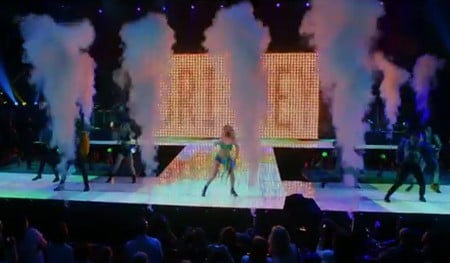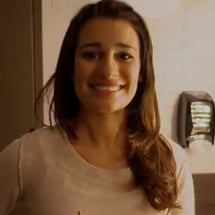 Matthew Morrison is noticeably absent (as is Jane Lynch despite being in the advertisements) which one has to assume is punishment for the sin of his advanced age … 32 (gasp!). In reality Morrison is barely older than most of the actors playing his students who, Chris Colfer and Chord Overstreet aside, are near or past the quarter century mark now. I only bring up age because the world's tiniest Darren Criss impersonator steals the film. He's still eight to ten years shy of firsthand knowledge of what a "Teenage Dream" is but the Cuteness is off the charts.
The most interesting element of the movie is its apostolic fervor for Glee as a life-changing quasi-holy force. The movie follows the stories of a handful of real live "Gleeks" who were changed by their fandom whether by opening up their social circles, helping them to come out of the closet, or getting a dream date to the prom. This religious mania is simultaneously endearing and annoying but, then, Glee is miraculously always both; not for nothing is Rachel the signature character. 
Already Opened: THE HELP, this weekend's big deal newbie, actually arrived in theaters yesterday to grateful packed houses. That's what you get when you cater to underserved demographics (which is, at this point, anyone who might need a break from superheroes). The movie is based on the bestseller by Kathryn Stockett about a feisty young white woman Skeeter (Emma Stone) who is secretly writing a book about the experiences of maids in the Jim Crow South. She enlists sad-eyed Aibilene (Viola Davis) and sharp-tongued Minnie (Octavia Spencer) first. The three of them raise quite a ruckus in Jackson, Mississippi on their way to Oscar nominations.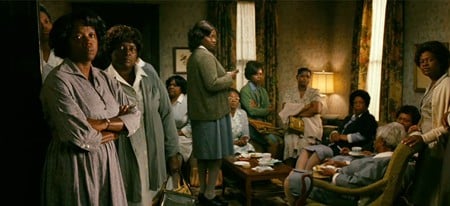 Fuller thoughts on The Help here which may divide people into camps: those who love the performances and aren't bothered by its ahistoric feelgood telling and those who object to its surfacey take on a deep topic.