The entire men's golf team at Bethany College, a Lutheran college in Kansas, has been suspended after dropping its pants for a team photo in which they covered their man parts with golf clubs.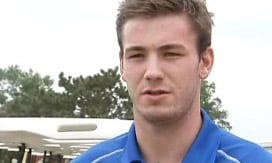 Yahoo reports:
Jon Daniels suspended every player on the Fighting Swedes for three tournaments because of the photo he called, "a case of young people who just don't think beyond the moment and don't realize who they're hurting."
"Until someone sat them down and explained that they did something wrong, they didn't have any idea," Daniels said. "But I think they understand now."
Team captain (pictured) Jack Hiscock (for realz), a Brit, insisted it was all in good fun:
"It was only intended as a bit of fun with the lads."
Watch, AFTER THE JUMP…
And check out the full photo above over at Deadspin (possibly not sfw).