Indiewire reports that Warner Bros. has set November 9 as the release date for the Dustin Lance Black-penned J. Edgar starring Leonardo DiCaprio.
They write: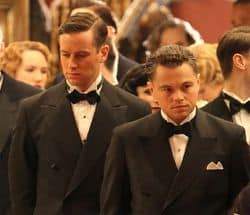 Aside from DiCaprio, the drama has a stellar cast including "The Social Network" breakout star Armie Hammer as Hoover's assistant/closeted lover Clyde Tolson; Josh Lucas as famed aviator Charles Lindbergh; Ed Westwick as Agent Smith, an operative gifted with writing skills; Damon Herriman as Bruno Hauptmann, the man convicted of kidnapping and killing the Lindbergh baby; Judi Dench as Hoover's mother; Naomi Watts as Helen Gandy, a Justice Department file clerk who ended up being Hoover's personal secretary; Ken Howard as lawyer and jurist Harlan F. Stone; Jeffrey Donovan as Robert F. Kennedy; and Stephen Root as Arthur Koehler, a wood specialist at Forest Product Laboratories who uses his expertise to help Hoover investigate the kidnapping of the Lindbergh baby by tracing the origins of the ladder used by the perpetrator.
Black shot down reports in February that Eastwood was planning to "de-gay" the film, saying "To think that somehow you're going to a make a movie about somebody like J. Edgar and you're not going to learn what's in his heart, that's just not going to happen in a script that I write…It's unfounded [the idea that the movie is being de-gayed.]"
Hammer has spoken excitedly about his kissing scenes with DiCaprio.