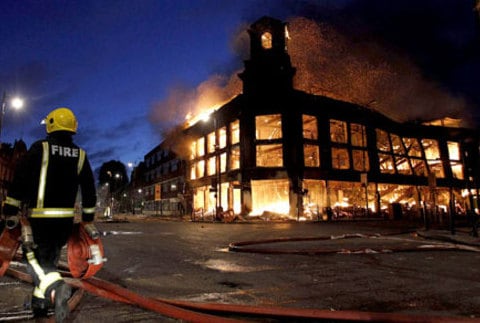 Hundreds of protesters gathered in London's Tottenham neighborhood Saturday night to protest the Metropolitan Police's fatal shooting of a 29-year old father of four named Mark Duggan last week.
But what began as a peaceful vigil for Duggan, whom cops say was killed in an exchange of gun fire, soon devolved into a riot, resulting in 42 arrests, at least 26 police injuries and the torching of two police cars, a double-decker bus and a building. There was also looting of local stores and merchants, according to reports.
Police are calling the incident "distressing" and described the scene as a "war zone," while protesters insist Scotland Yard got what they deserve. "[We're] here to tell the police they can't abuse us, harass us. We won't put up with it, this is just the beginning, this is war, and this is what you get — fire," said one participant during the late night demonstration.
Tottenham is one of London's most economically depressed neighborhoods, and has some wondering whether last night's incident isn't the prologue to more protests ahead of the city's 2012 Olympic Games next summer.
We'll have to wait and see what happens on that front, but in the meantime I've included news footage of last night's incident, AFTER THE JUMP…