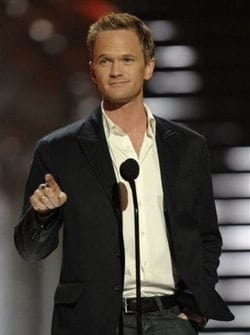 New dad Neil Patrick Harris clearly has an itch for kid-friendly productions: first he appears in Smurfs, and now the actor will played the magic mirror in an upcoming stage production of Disney's Snow White.
Ed Kilgore discusses conservatives and convenient states' rights: "The history of cultural conservatives on [abortion and gay marriage] is very clear: They favor the maximum legal heft the political market can bear in support of their views. From their point of view, a federal constitutional ban is ideal; federal statutes would be less effective but better than state action; and state action (via either state constitutional amendments or statutes) is a useful fallback position if national bans aren't practical."
David Beckham shows off the new tattoo he got for daughter Harper.
The Glee stars turned out for the premiere of their 3D concert movie.
New York City Council gave The Ali Forney Center, a space for homeless LGBT youth, $620,000 to help the service expand its woe-fully underfunded reach. "We are grateful to have the additional shelter beds. It is a terrible thing to see so many LGBT youth forced to survive out in the streets while they wait for beds. We hope to have the new site opened by October so fewer kids will have to suffer in the cold this winter," said the Center's executive director, Carl Siciliano.
Teens for Testing, an STD and HIV/AIDS awareness group for high school students, could use some support, too.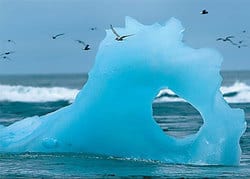 Members of the Scottish Nationalist Party double-down in effort to "protect" conservatives from gay marriage.
Unhygienic NYC food vendor blames his woes on Jewish people, gay people and anti-Islamic racism.
Scary crusade: "Conversion therapy, as it is called, has been causing controversy for years in the United States, where a so-called "ex-gay movement" continues to thrive. Now there is increasing concern among LGBT rights organizations that these groups are strengthening their foothold in Europe."
Howard Dean blames the Tea Party for the nation's economic turmoil, and wonders what they've been "smoking:" "I think they've been smoking some of that tea, not just drinking it."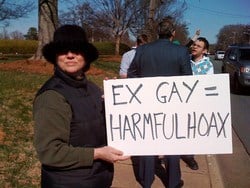 New ABC drama Pan Am takes place in the 1960s, but network executives put the kibosh on of-the-era smoking in the period series, which stars Christina Ricci.
Rupert Murdoch's News Corp, which owns Fox News and the New York Post, will print a gay wedding magazine. The company's publications and outlets may not support same-sex equality, but they'll happily accept LGBT dough.
45,000 Verizon employees strike over labor contract impasse.
Melting glaciers increase planet's waist size.