Mark Wahlberg is feeling his age: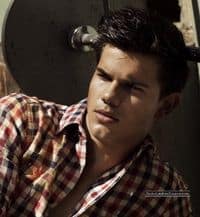 "I am sitting at a table with a gentleman who is better looking than you and is in better shape than me," Wahlberg said to DiCaprio earlier today at the Hollywood Foreign Press Association's annual luncheon at the Beverly Hills Hotel. "So, we're both out of a job, dude. Taylor Lautner! We're screwed."
"It's over, dude," Wahlberg continued as the room burst into laughter. "Titanic and Boogie Nights were a long time ago. I accept it. I had a good run and on to the next."
Lautner told E!'s Marc Malkin:
"I don't even know the word to describe being here," the Twilight star exclusively told me. "It's so odd. It's such an honor. I'm up on the stage and talking in front of people like that? The people that I looked up to my entire life? Hearing words like that from Mark and everybody it's just really surreal."